Aluminum Strip Thickness 0.3 mm
Author: Nydia
View:
Time: 2021-06-09 17:26
Commonly used alloy grades for aluminum strip thickness 0.3 mm are 1050, 1060, 1070, 1100, 3003, 3004, 5005, 5052, 8011, etc. Aluminum strip coils use aluminum as the main raw material, and there are many choices of aluminium alloys. The aluminum strip products from production to processing are large in quantity and good in quality. The advantage is that aluminium strip is a product with light quality, high comprehensive utilization value, simple process, low cost and cheap price.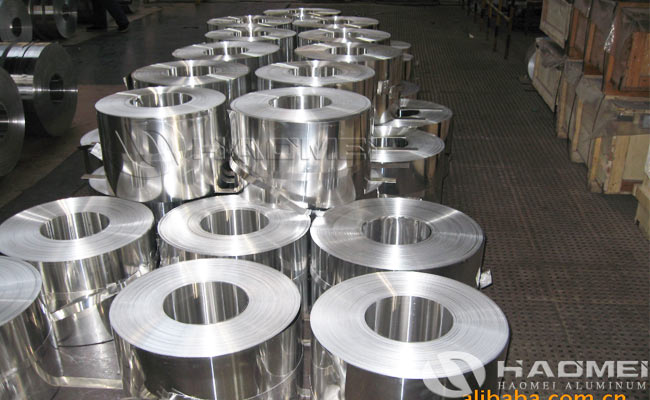 Haomei Aluminium provide aluminum strip thickness 0.3 mm with a width of 10mm or more. The slitting edge of aluminum strip is smooth and the slitting size is accurate, which can be controlled within 0.05mm. Haomei Aluminum can provide a film to effectively avoid surface scratches of aluminum strip. The width of the aluminum strip and the packaging method affect the aluminum strip price. In principle, the smaller the width, the smaller the inner diameter, and the higher the price. The common width of aluminum strip is more than 200mm, and the commonly used inner diameter is 500mm. Therefore, it is recommended that if the user has no clear requirements for the inner diameter of aluminium strip, you can choose 500mm inner diameter, and the width needs to be determined according to the actual product size.
Aluminum strip thickness 0.3 mm is suitable range of applications: cable, transformer, shutter, gutter, fin stock, air duct, bottle caps, office partition shutter, screen, industrial fence, various frames, display racks, shelves, mechanical dustproof seal cover, etc. After the surface of the material is oxidized, the appearance is very beautiful, and it is resistant to dirt. Once it is coated with oil, it is very easy to clean.
Keywords:
aluminum strip thickness 0.3 mm, aluminum strip thickness 0.3mm, aluminum strip 0.3 mm