Colorful Aluminum Bottle Cap Strip
Author: Nydia
View:
Time: 2021-05-07 17:46
8011 H14 colorful aluminum bottle cap strip is an important member of hot-rolled aluminum anti-theft caps. Implement GB/T3880 standard. Thickness range: 0.15-0.27mm, thickness tolerance ±0.005mm, width within 330-1000mm, width tolerance ±1mm, tensile strength 150~165Mpa, elongation>2%. The 8011 aluminum strip for bottle cap have fine surface, no obvious roll pattern, no obvious defects such as black lines, oil spots, dust, scratches, bright strips, etc., the ear-making rate is controlled within 3%.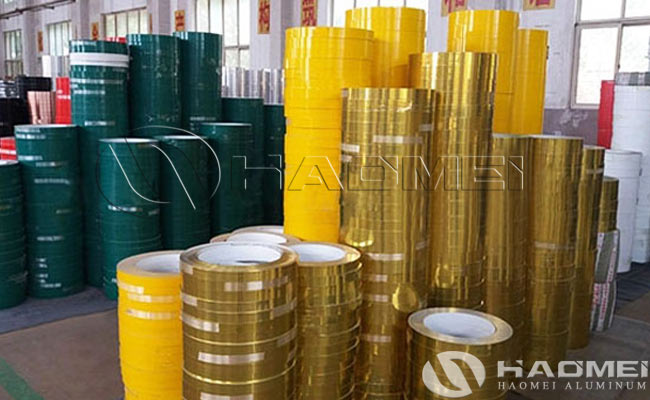 The 8011 H14 colorful aluminum bottle cap strip material process must go through cold rolling-foil rolling annealing thickness-annealing-foil rolling finished product-stretching and bending - slitting and other processes are completed. After the finished strip coil is produced, it must go through multiple processes such as flattening machine cutting, painting, drying, multiple stamping, and anti-counterfeiting marks, and finally produce qualified aluminum bottle cap materials. 8011 H16 medical aluminum strip for bottle cap material and wine cap material are slightly different in the production process. Because the stretching requirement of wine cap is higher than that of medicine cap, there is a difference in annealing.

The colorful aluminum bottle cap strip is well-made, extremely tight, low cost, and recyclable. At the same time, it meets the requirements of high-temperature retorting and sterilization of alcohol, beverages, and medical and health products. Alkaline washing on the surface of aluminum bottle cap strip can reach the level A of the water-washing experiment. The color coated aluminum bottle cap strip product has a flat pattern, geometric size, high surface gloss, good alkaline washing effect. The end surface of the aluminum strip is flat and has no defects such as parabolic lines and collapse lines.
Keywords:
colorful aluminum bottle cap strip, aluminum bottle cap strip, aluminum strip for bottle cap