Heat Exchanger Aluminum Strip 3003
Author: Nydia
View:
Time: 2021-05-14 16:48
Haomei Aluminum produce and export heat exchanger aluminum strip 3003 with prime quality and factory price. The main production equipment of Haomei Aluminum is imported from Germany, and can complete all processing and circulation procedures from melting and casting, milling, hot rolling, cold rolling, slitting, punching, annealing, packaging, storage and transportation. AA3003 aluminum strip and foil material obtained through smelting, casting, milling, homogenization heating, hot rolling, cold rolling, intermediate annealing, foil rolling and finishing processes. Its melting point, tensile strength before brazing, and sag resistance are better than conventional 3003 aluminumalloy materials, and its corrosion resistance is equivalent to conventional 3003 aluminum alloy materials, which can meet the needs of heat exchangers.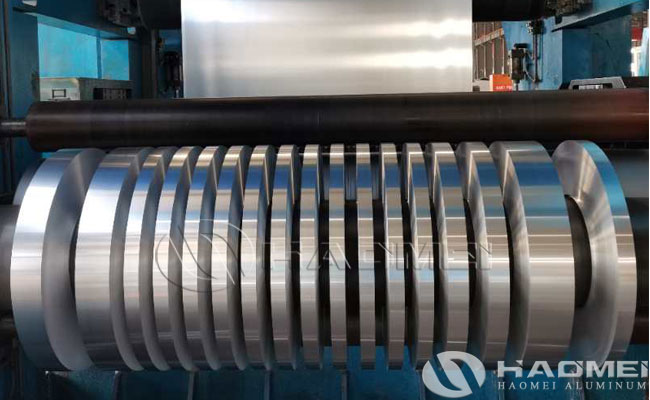 The main characteristic alloying element of 3003 heat exchanger aluminum strip is manganese, which has excellent forming characteristics, high corrosion resistance, good weldability and conductivity, and higher strength. The air conditioner is mainly composed of a compressor, an evaporator, a condenser and an expansion valve, and uses a refrigerant as a heat transfer medium. The evaporator or condenser is generally punched out of thick aluminum strip to form heat sinks, and forms a through heat sink type heat exchanger with copper tubes.

In order to save energy and protect the environment, heat exchangers for air conditioners are developing in the direction of high performance, miniaturization, and light weight. It requires more performance on the surface of the heat sink material. The aluminum processing industry has developed heat exchanger aluminum strip with hydrophilic and corrosion-resistant coatings for air conditioner heat sinks. Moreover, in the future, the demand for hydrophilic coated aluminum strip foil will increase, and the demand for aluminum foil for heat sinks with untreated surfaces will become less and less.
Keywords:
heat exchanger aluminum strip, heat exchanger aluminium strip, aluminum strip