Aluminum Strip For Ceiling
Author: Nydia
View:
Time: 2021-08-06 17:46
Color coated aluminum strip for ceiling has become one of the most popular top-level decorative materials. It is a kind of green with environmental protection, durability and aesthetic characteristics. The advantages of the color coated aluminum strip supplied by Haomei Aluminum are uniform color, bright and clean, strong adhesion, strong and durable, acid and alkali resistance, weathering resistance, decay resistance, friction resistance, ultraviolet radiation resistance, strong weather resistance. The effect of the substrate is very good, and the general coated strip can reach more than 90% of the life, save time and effort, fast decoration, economical and environmentally friendly. The aluminium strip ceiling painting can be varnish or white paint.

Ceiling originated from Europe, America and other countries. Ten years ago, aluminum ceilings were regarded as high-end products, and few people used them in China. Now with the improvement of technology and technological transformation, the price of aluminum ceilings has begun to be rationalized. Metal ceilings are mainly used in places such as airports, stations, office buildings, shopping malls, subway stations and residences. At present, they are mainly used in kitchens and bathrooms in home furnishings.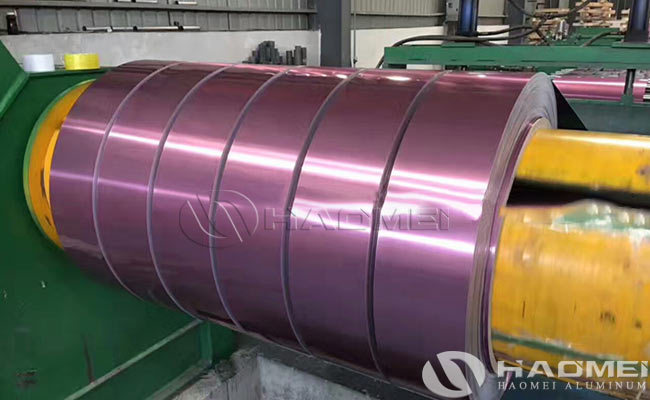 The aluminum strip for ceiling produced by Haomei Aluminum is welcomed on the market. The aluminum strip have performance features of:
1, Light material
The weight of pure aluminum strip ceiling is reduced by 40% compared with other metal plates, and it is easy to handle and reduce costs;

2, Strong structure
The aluminum ceiling is easy to cut, cut, gouge, bend into arcs, right angles and other shapes, and use ordinary metal or wood processing tools to cooperate with the designer to make various shape changes;

3, The uniformity of surface coating
Because its surface coating adopts roller coating technology, compared with powder spraying used by other building materials, its surface coating is more uniform, and its thickness is easier to control and consistent;

3, Flatness, easy maintenance
The aluminum strip for ceiling is flat, the surface is smooth, does not twist, does not deviate, use clean water or neutral mild detergent to clean, you can make the board permanent as new.

4, There are many colors and bright colors.
There are 60 colors available for regular selection, and other colors can be adjusted. At the same time, it can produce mixed colors such as wood grain and grain grain. Available paint types are: fluorocarbon, polyester, acrylic, food grade paint.
Keywords:
aluminium strip for ceiling, aluminum strip for ceiling, color coated aluminum strip for ceiling