We will provide the most suitable product for you to spend the least money and achieve the best results.
Free Hotline

8618137889531
News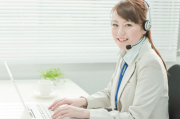 Tel: 8618137889531
Email: nydia@aluminumhm.com
Add: 1103 No.14 Shangwu Outer Ring Rd, New District, Zhengzhou, China.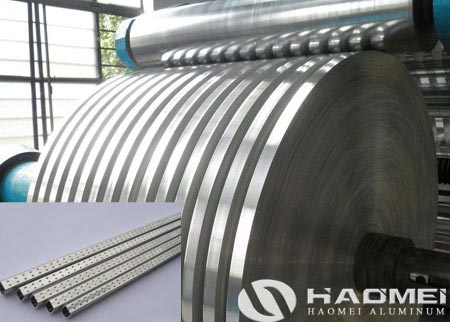 Aluminum Spacer Strip | For Insulating Glass | Haomei
MOQ:

2 to 5MT

Port:

Shanghai,Qing Dao, China

Payment Terms:

L/C,TT,CAD

Delivry Time:

15 to 30days
Haomei supply 1060, 1100, 3003 H26
aluminum spacer strip
for insulating hollow glass, which has good insulation effect and long service life. We can guarantee product quality and offer very good service, another, our have many years experience of coating and export. If your have any question in the future time, your can freely contact us!
Aluminum strip for spacer is one of the necessary materials for hollow glass production. Its quality is directly related to the use effect, service life and heat preservation and insulation function of hollow glass. Its main function is to play in insulating glass on both sides or more pieces of glass evenly separated, effective support role.
Aluminum spacer strip for insulating glass take pure aluminum ingots as raw materials, the surface should be treated so as not to oxidize, resist corrosion and have excellent compatibility with other materials used in insulating glass.
General Specification of aluminum strip for spacer
Alloy
Temper
Specification(mm)
Thickness
Width
Coil ID
1100
H18, H19, H26
0.2~0.3
20~500
75, 150
3003
Chemical Composition of aluminum spacer strip for Insulating glass
Alloy
Si
Fe
Cu
Mn
Mg
Cr
Zn
Ni
Ti
Other
Al
Each
Total
1070
0.2
0.25
0.04
0.03
0.03
-
0.07
-
0.03
0.03
-
99.7
3003
0.6
0.7
0.05-0.2
1.0-1.5
-
-
0.1
-
0.05
0.15
reminder
Application: insulating glass aluminium spacer and hollow glass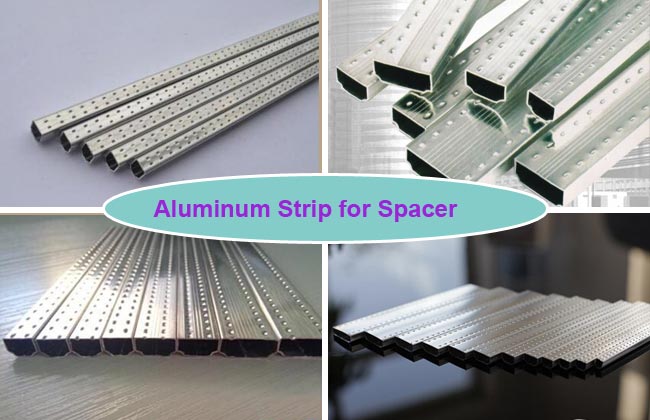 Why the aluminum strip can be used as a hollow glass spacer?
1, The density of aluminum is very small, only 2.7g/cm, and it has good ductility so that it can roll various aluminum products.
2, Although its material is soft, it is very rigid, and it will not be deformed for a long time, which greatly guarantees the stability of the insulating glass.
3, The shape is smooth and flat, it looks like it has no impurities, and it has a silvery white luster. It can maintain a smooth and translucent color no matter how long it is used, and it will not appear dull and dull.
4, The surface of aluminum is resistant to corrosion due to its dense oxide protective film. Aluminum has a silvery white luster and is also corrosion resistant.
5, Aluminum has sound absorbing properties and sound effects are also good.
6, Low temperature resistance, aluminum at the low temperature, its strength is increased without brittleness, so it is ideal for cryogenic equipment materials.
Compared with ordinary aluminum strips, hollow glass aluminum spacers have the following advantages:
1, anti-rust, anti-corrosion, high brightness
2, the surface of the aluminum strip is evenly penetrated, the straightness is good, no deformation, the size is stable
3, high strength, good toughness, can be bent into any angle of aluminum frame with bending equipment
4, to ensure the molecular sieve activity, to ensure excellent adhesion with all types of glue
aluminum spacer strip aluminum strip for spacer aluminum spacer strip for insulating glass aluminium strip for glass spacer
Buy:Aluminum Spacer Strip | For Insulating Glass | Haomei