China aluminum tape for transformers
Author: Nydia
View:
Time: 2019-03-29 15:39
China aluminum tape for transformers factory can produce high quality transformer winding aluminum tape 1060 1070 with round edges. The aluminum strip and foil specifications for dry-type transformers should pass the test standards, chamfering on the sides (rounded corners, rounded edges).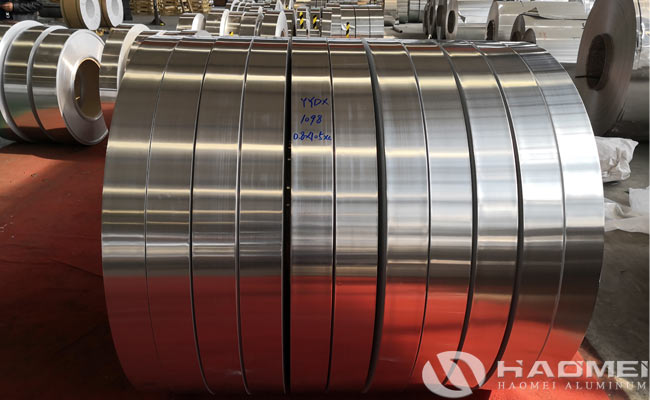 The specifications and testing standards of aluminum tape for dry-type transformers winging are:
1. General specifications are:
The aluminum grade are 1060m 1070m 1350 and so on, the temper of transformer aluminum tape is O(soft temper), the thickness 0.05mm, 0.1mm, 0.15mm, 0.2mm, 0.3mm, 0.5mm, etc., the normal width is: 50mm, 60mm, 80mm, 100mm, 120mm, 150mm, 300mm, etc. The surface is smooth and has no scratches. The sides can be chamfered (rounded corners, rounded edges), no burrs, better than the national standard. The resistivity is less than or equal to 0.028. The packing is wooden pallet, inner diameter is 300mm or 500mm.
2. Testing standards
Frequency of use: 50/60HZ;
No-load current: Withstand voltage: 2000V/min without breakdown; Test instrument: YZ1802 withstand voltage tester (20mA);
Insulation class: Class F (special grade can be customized);
Insulation resistance: ≥ 2M ohm test instrument: ZC25B - 4 type megger connection: Y / Y, △ / Y0, Yo / △, auto-coupled (optional);
The coil allows temperature rise: I00K;
Cooling method: natural air cooling or temperature control automatic cooling;
Noise figure: ≤30dB
China aluminum tape for transformers with the characteristics of high conductivity and soft quality, smooth surface and no burr, it is an ideal material for the production of dry type transformer and the key raw material for the production of transformer windings.
Keywords:
china aluminum tape for transformers, aluminum tape for transformers, aluminum tape for transformers china factory