Buy high quality aluminium strip 2mm
Author: Nydia
View:
Time: 2019-11-07 16:30
Buy high quality aluminium strip 2mm from Haomei, which used for cable, cosmetics caps, pipe, aluminum hose, tube, transformer and shutters. The quality of aluminium strip is usually present by surface quality, edge quality and thickness tolerance. The thickness tolerance of the aluminium strip is determined by the casting and rolling equipment (cold rolling mill), and the current aluminium strip manufacturers production can be controlled within 0.02 mm. The width of the aluminum strip is determined by the slitting device and can be controlled within 0.1 mm.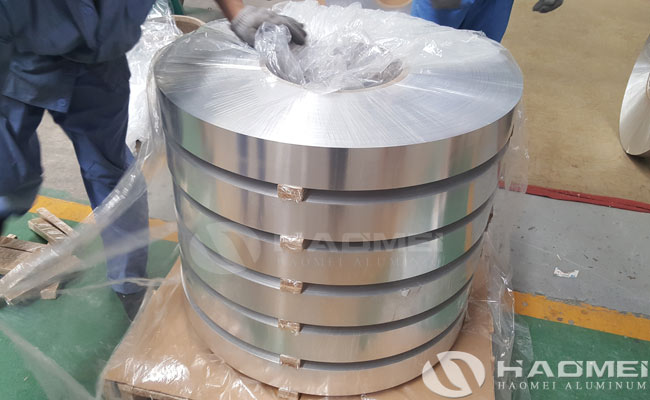 According to the national standard, the thickness tolerance of the aluminum strip is given in a wide range, which can be around 10%. In the actual application process, this tolerance can not meet the needs of die stamping. The production equipment of aluminium strip manufacturers can make that the thickness tolerance of controlled within 0.02mm, which can be well applied to the metal stamping products with high thickness requirements. Haomei supply high precision aluminum strips guarantees a range of thickness tolerances.
The width tolerance of the aluminum strip is mainly related with the slitting equipment. The aluminium strip production equipment can be controlled within the range of 0.1mm. Of course, the tolerance of the width is also related to the experience of the production personnel. The experienced workers can adjust the tolerance to be controlled within 3-5 filaments, mainly related to the quality control of the aluminum strip production process, Haomei providing a wide range of accurate aluminium strip 2mm products to meet the needs of different customers.
Keywords:
aluminium strip 2mm, 2mm aluminium strip, aluminum strip 2mm, 2mm aluminum strip