China transformer aluminum strip manufacturers
Author: Nydia
View:
Time: 2019-07-25 17:06
China transformer aluminum strip manufacturers Haomei provide 1070 and 1060 o aluminum strip 0.012-0.2mm for transformer winding processing. The use of aluminum strips in transformers is very common in Europe and America, because the aluminum strip for transformer has the advantages of high plasticity, corrosion resistance, good electrical conductivity and thermal conductivity. The width of 1070 O aluminum strip for transformer winding is 10-300mm, the core inner diameter is 76mm, the maximum outer diameter is 500mm.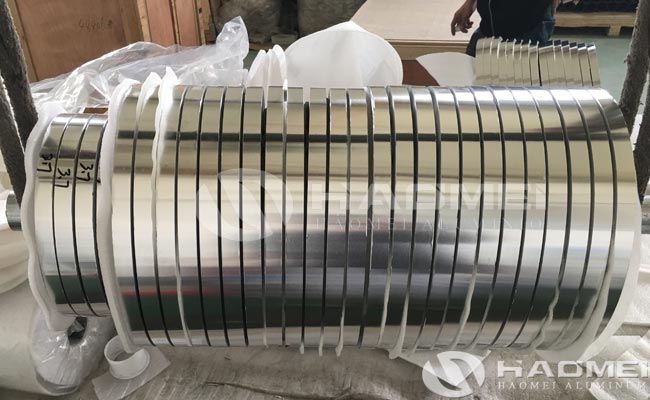 The electrical conductivity, burr edge, side bending, surface quality and other technical indicators of transformer aluminum strip have very high requirements. The electrical conductivity of transformer aluminum strip is related with the alloy and temper, while the burr edge and side bending are related with the processing technology. Different methods can be adopted for the aluminum strips of different specifications. Generally, the thick finished strip adopts the method of first annealing and shearing. On the one hand, the oil or emulsion remaining on the strip surface during the rolling process is cracked and volatilized by the annealing process, which can reduce the pollution of the shearing system and the corrosion of the aluminum strip. On the other hand, it is possible to reduce the surface contamination of the finished strip during the annealing process by wiping the felt pad or the nonwoven fabric. The medium-thickness wide-form finished strip is pre-cut and post-annealed to reduce the burr height generated by the soft strip shearing process. For china transformer aluminum strip manufacturers, during the production of narrow aluminum strips, in order to improve production efficiency, it is generally produced by first annealing and then shearing.
Keywords:
china transformer aluminum strip manufacturers, transformer aluminum strip manufacturer, china transformer aluminum strip