Clip nose bridge strips aluminum 1060
Author: Nydia
View:
Time: 2020-09-28 15:31
Haomei is specialized in clip nose bridge strips aluminum 1060 manufacturing, the size are 0.4*5*90mm and 0.4*5*85mm. The mask nose bridge aluminum flat strip 1060 are produced by large-scale CNC stamping process, it has smooth clean surface, smooth corners, etc., does not hurt hands, without burrs, and do not pull the mask body material, it is easy to bend and form, has excellent snapping force, and does not rebound when the external force is lost. It can be perfectly combined with non-woven materials and environmentally friendly materials through polymer welding. Make good contact with the corresponding parts of the wearer's face to improve the barrier effect. It is approved by the World Health Organization and has been exported to other countries in large quantities.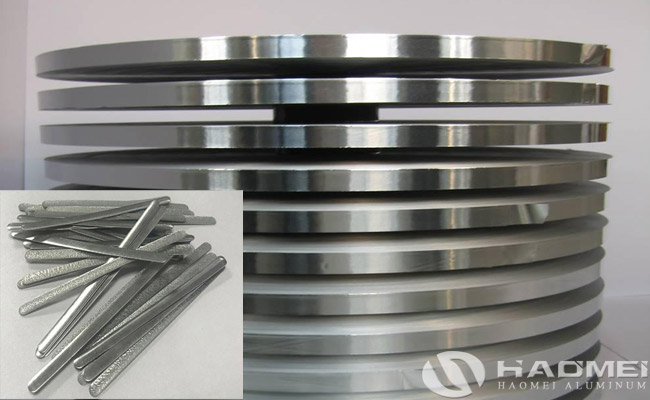 The clip nose bridge strips aluminum with hot-melt adhesive is adopted, which is environmentally friendly, highly viscous, and stable in quality. The aluminum clip nose bridge with hot-melt adhesive on the back is bonded to the mask using a mask nose strip welding machine. There are metal strips of nose clip inside the flat mask. It needs to use both hands to press the metal strips on both sides of the nose bridge to make the upper end of the mask close to the bridge of the nose. Then stretch the mask downwards so that the mask does not leave wrinkles and better covers the nose and mouth. The nose bridge of the mask is made of aluminum strip for nose bridge, which can be processed from aluminum sheet raw materials.

The special aluminum nose strip for masks is anti-rust, anti-corrosion, and high brightness; the surface of the aluminum strip has uniform pores, good straightness, no deformation, and stable size; high strength, good toughness, and continuous bending with bending equipment. The clip nose bridge strips aluminum has excellent adhesion with various types of glue, excellent sealing effect, not easy to leak and long service life.
Keywords:
clip nose bridge strips aluminum, clip nose bridge aluminum strip, aluminum strip for nose bridge